'Come and see' is the invitation issued by Philip to a sceptical Nathanael who doubts the likelihood of a promised saviour coming from a nowhere town like Nazareth. Philip doesn't offer exegesis or philosophical arguments, but a simple invitation to have a look, to pay attention to what's there. In issuing this invitation, he is not doing something novel but repeating what Jesus had already said to the first two disciples he called. In their case, they were curious about where he was staying (actually a subtle hint at the theology of abiding that would follow later, but that's for another time) so Jesus just said, 'come and see'.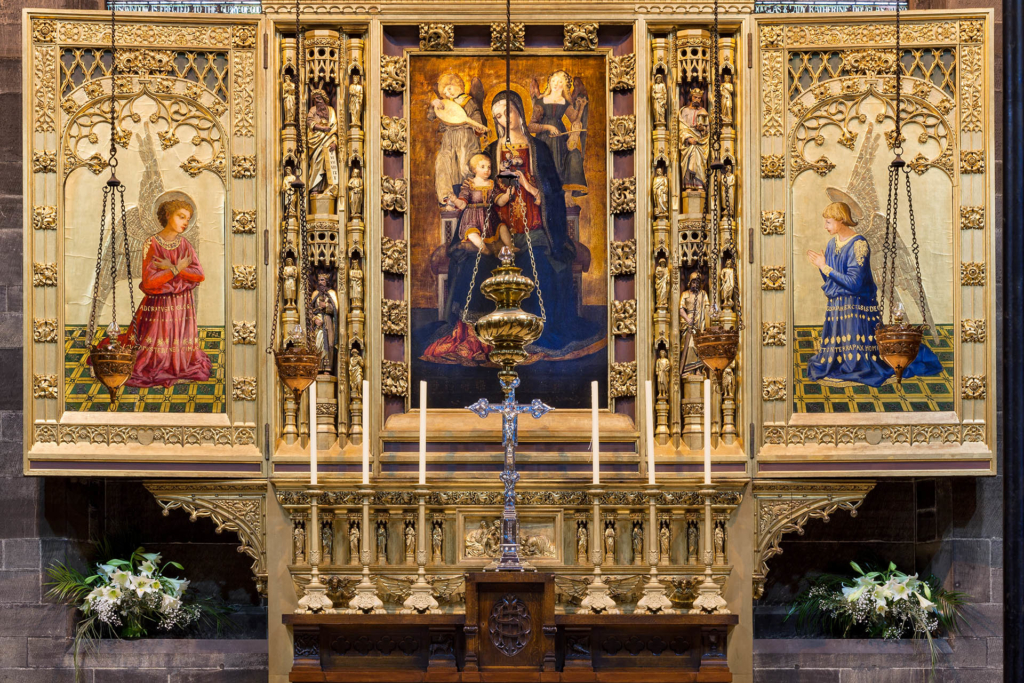 It's a pretty good principle for anyone who has wants to respond to the interest shown by others in questions of faith. 'Come and see' implies that faith is a matter of learning from watching, a kind of apprenticeship, rather than an abstract or theoretical thing. 'Come and see' also implies that the one issuing the invitation has something to show rather than something to explain and that 'something' is the practice of faith in our real lives. Explanations are important, but they can only ever be secondary to that primary concern of a real life lived faithfully.
But the reason I want to dwell on this phrase for a while this morning is that it also could be heard in the context of the form of communal worship that we are currently experiencing. In the absence of our physical presence together, we each come and see from our own homes and we are also aware of many who have done just that without previously having been in the space from which this Mass is being offered. I am sure that most of us have spent some time asking what this means for one of the fundamental aspects of practicing our faith, the gathered community offering the sacrifice of the Mass in person and receiving, in the tangible form of bread and wine, the Body and Blood of Christ.
I'm not going to attempt a full-blown theology of the Eucharist in its online manifestations – it's beyond my competence and our collective patience – but I would like to offer some reflections about how this online experience resembles and differs from our usual experience of the Mass. Let me say one obvious thing first of all, which is that the online experience can never replace the physical gathering of God's people, the full bodily experience of worship and the actual reception of the holy gifts, which we take into ourselves in the form of real food. Faith engages us as whole persons, not only as brains on sticks. We pray for the conditions that will allow us to gather safely once more, conditions that will mean that we are no longer under such serious threat from a terrible disease.
So what remains intact, or largely so, when we worship in this way? We are still praying together, still giving thanks together, still hearing God's Word and responding to it, still connecting with one another through a shared experience, still offering ourselves as a living sacrifice, still looking upon the one who comes to us as the Lamb of God. We are still marking together the seasons of the Christian Year as they take us once again through the great mysteries of faith. And although we cannot do so together, we may still pray with our bodies, making the sign of the cross, bowing, standing, or adopting whatever prayerful posture allows us to attend well to the liturgical drama in which we are no mere spectators, even if our primary mode seems to be one of looking. Seeing a familiar space and familiar actions, hearing familiar words and chants, we are enabled to access the deep habits of praying together that have formed us over years. And if this way of praying together is newer for us, we may still acquire such habits through the gift of our prayerful attention. We may not be able to attend physically, but our practised attention is still called for as we participate from our own homes.
What is missing, of course, is our bodily proximity to one another and our full awareness of the common action we offer as our liturgy. We miss also the physical reception of the holy gifts, and here, I want to say a word or two about the practice of spiritual communion. You may be aware of this idea, which is quite ancient, and allows us, whatever our circumstances, to pray that may receive Christ in a spiritual manner even if we cannot do so physically. One well-known prayer for spiritual communion goes like this:
My Jesus, I believe that You are present in the Most Holy Sacrament. I love You above all things, and I desire to receive You into my soul. Since I cannot at this moment receive You sacramentally, come at least spiritually into my heart. I embrace You as if You were already there and unite myself wholly to You. Never permit me to be separated from You. Amen.
And pleased be assured that, when I receive the Eucharist here at this Mass and every day in the week to follow, I am praying that I do so in communion with all of you. I am conscious that, even if I am alone in this place, I am not offering this Eucharist alone, but in union with the whole Body of Christ. It is, after all, Christ who is the One who is offered here and it is Christ who is making the offering. He is the priest of this one, holy, living sacrifice and he is not confined by walls or distance. The whole creation is offered and the whole creation transformed every time we join our voices in humble and joyful thanksgiving. The Holy Spirit is not locked down.
The Holy Eucharist remains, in the words of the Second Vatican Council, the source and summit of our faith, even in these difficult times. But it also compels us to see our whole lives as eucharistic, every action and every interaction as the practice of a Christ-like faith, every contact we have with one another as an expression of the living Christ who is present in the gathering of two or three, however they do that. So when we hear again the words 'do this in remembrance of me', we are not only repeating the prayerful actions of Jesus at the mystical supper, but, perhaps above all, we are committing ourselves to Christ-like lives, giving ourselves thankfully in the daily work of healing a divided world, forgiving as we have been forgiven, embodying the presence of Christ each moment of each day.